Suzhou Exhibition | Dima Machinery sincerely invites you to meet!
---
Suzhou Exhibition | Dima Machinery sincerely invites you to meet!


June 13-16, 2019
The 11th Suzhou Furniture Fair opened
Booth No.: E1F02
Dima Machinery invites you to meet in Suzhou~
June 13-16, 2019
The 11th Suzhou Furniture Fair grand opening
Booth number: E1F02
WDMAX invite you to make an appointment
Exhibiting equipment
Equipment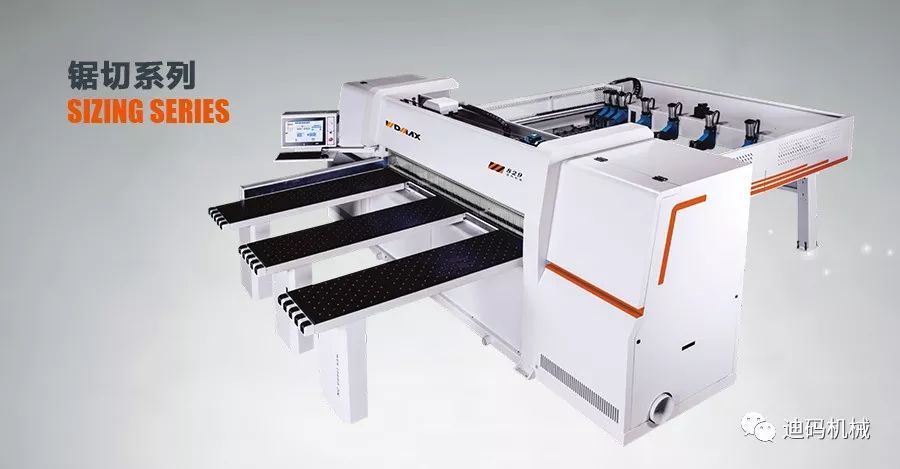 1. Saw blade protection: The saw blade lift adopts a special pneumatic control structure to realize the self- sustaining function of the saw blade lift to prevent the saw blade from falling suddenly due to accidents (such as power failure, etc.) when the saw blade is replaced.
2. The saw blade is automatically positioned. The main saw and the auxiliary saw are raised and lowered independently, and the sawing stroke can be automatically positioned according to different cutting heights and widths.
3. Saw blade quick disassembly device The saw blade can be installed and disassembled quickly, effectively reducing the burden on workers.
4. The main saw motor is 25HP (18.5kW), and the maximum sawing board thickness can reach 120mm (optional)
1.Saw blabe protection: Saw blabe system with special pneumatic control, self-holding performance auids accident happening when sudden power off.
2.Saw blabe auto positions and independent lifting controls sawing stroke could be all positioned according to sawing height and panel width.
3.Saw blabe quick change effectively reduce work load.
4.Main saw motor wth power of 25HP(18.5 kW), Max. cutting height can be 120mm(Option).
Machining Center DN-2408DT
Special for hole material / double spindle +9V drilling group
Special for drilling and cutting/Double spindle + 9v drill bag
Edge Banding Machine WD-468J
Track trimming (KDT patented technology)
High-precision profiling to ensure the workpiece processing effect
Corner Rounding(Patented KDT technology)
Corner-round with high precision
ensures a best process effect
Edge Banding Machine WD-328
1. Speed: PC intelligent control, the fastest feeding speed is 23m/min.
2. Qi head automatic lubrication system: ensure the smooth operation of the head mechanism and improve the service life of the parts.
1.Speed:Intelligent PC control,max.speed is 23m/min.
2.Lubrication system: to ensure a good working on end trimming unit , prolonger service life of parts .
Simultaneous processing of multiple drill packages increases efficiency; precise algorithms optimize paths and simplify actions.
Speedy:Multiple drilling heads work synchronously, increasing double working efficiency .Precision algorithm to optimize path and simplify movement.
The quasi- air-floating pressure plate device mechanism improves the accuracy; the high-precision servo shaft transmission enables precise positioning.
Accuracy:Pressing device with pneumatic system to improveprecision.Shaft drive transmission by servo to locate precisely.
Stable and all-round processing test, stable operation; including diversified data formats, flexible docking.
Stability:Comprehensive and reliable processing test assures a stable operation,Diversification data format makes a flexible docking with software.
1. Double working mode of laser or scanning label
Dual working mode:laser or lable
2. Docking and dismantling software
Connected with disassembled software
3. Dual high-speed servo drives
Double servo drive with high speed
4. Three stations
Three station
Laidima machinery site
Look at trends, look for new products, look for business opportunities
There are more exciting content waiting for you!
Service Hotline